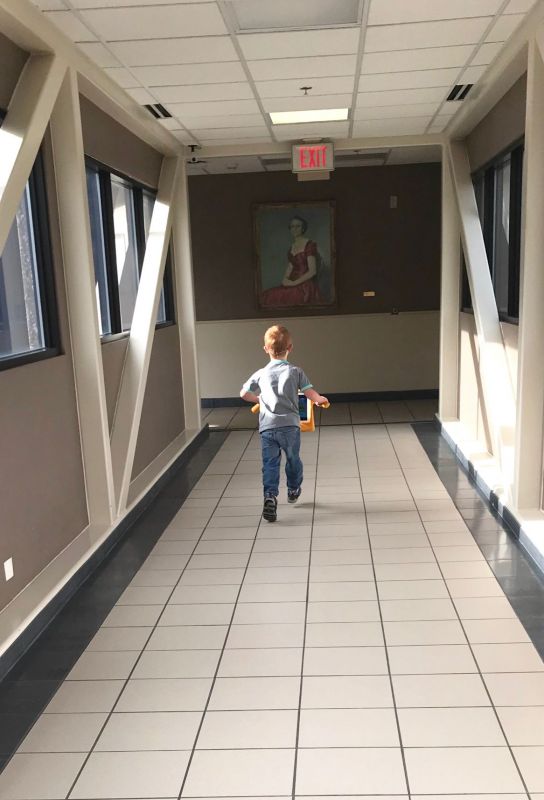 Emerson rocked the swallow study, but we already knew that would happen right? :)

We arrived at the hospital around 8:20 this morning to register and was soon on our way to the children's waiting room. Emerson was in such a good mood dancing around the room with his iPad. He made my whole morning with his cute dance moves. A few minutes later Ms. Emily came out to get him. iPad all done, transition card tapped and off they went!

There was another mom and her adorable son who came into the waiting room while Emerson was in his procedure. They were there for outpatient therapy and we shared stories about our boys. Love moments like that. Twenty minutes later I heard the pitter patter of Emerson running down the hall.

I met with the speech therapist in the hall and she had amazing news! He ate and drank like a champ, the barium didn't bother him at all. The good news is they saw no aspiration. It did appear that every 10 drinks/swallows there was a little fluid going in his lungs, but wasnt an amount that we should be concerned about. It is pretty common with kids with Down syndrome due to their floppy airways. She said that he wouldn't need his water thickened, but we should watch him closely when drinking water. If he guzzles water, than there is a chance some could go into his lungs. His juice and milk should still be thicken to a half nectar base. He is currently drinking almond milk and it is thicken with almond milk yogurt which brings it to the level of the thickness they are suggesting. So all good there.

She also said she saw post swallow residue which sometimes can lead to aspiration. But the good sign was that in the next 2-3 bites he is clearing the residue from his throat so its not a concern. We have to remember that he just started eating solids about six months ago. So with the things that we are learning at the feeding clinic - his positioning, his pace, and control of his food and liquid - he will get stronger and stronger and the post swallow residue will become less and less. There was a few meals where he was gagging on the juice of peaches and pears, but she didnt see that when she tried those foods. So that may have been one of his stale tactics to not eat certain foods. Sounds like him. Ha!

All in all a great swallow study. Our dietitian was out today, but will be back on Monday where we can discuss it further on what changes should be made, if any.

After the swallow study we made our way back to the feeding clinic. Emerson just danced (with his iPad of course) all the way back to the other building and I was dancing right behind him because in just a few more hours we are home bound for the weekend! We survived another week!

It was certainly a good day to have a good day!